For all the durian fans out there, Durian is also known as the King Of Fruits in Malaysia. It is very popular not just in Malaysia but also in Southeast Asia countries.
As you can see, its flesh comes in slightly different texture, skin colour and taste. They are not identical due to climate factor that differs from each region of the Southeast Asia. As for Malaysia, below are the types of durian which are commonly found.
Below are the 6 types of durian commonly found in Malaysia.
1. Musang King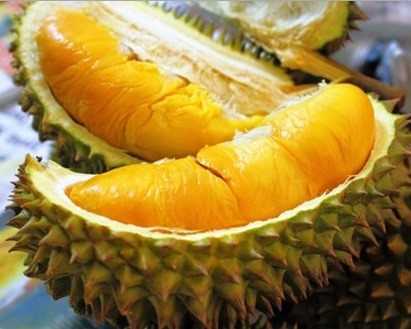 (Image via bibitbunga)

This is mostly sought after by tourists and even the locals.
Its flesh is usually dark yellow and has thick and creamy texture. Many durian lovers crave for it since its quite rare compare to other types of durian. Even the CNN anchor and reporter based in New York, Richard Quest is helpless in front of the 'Musang King'.
2.Little Red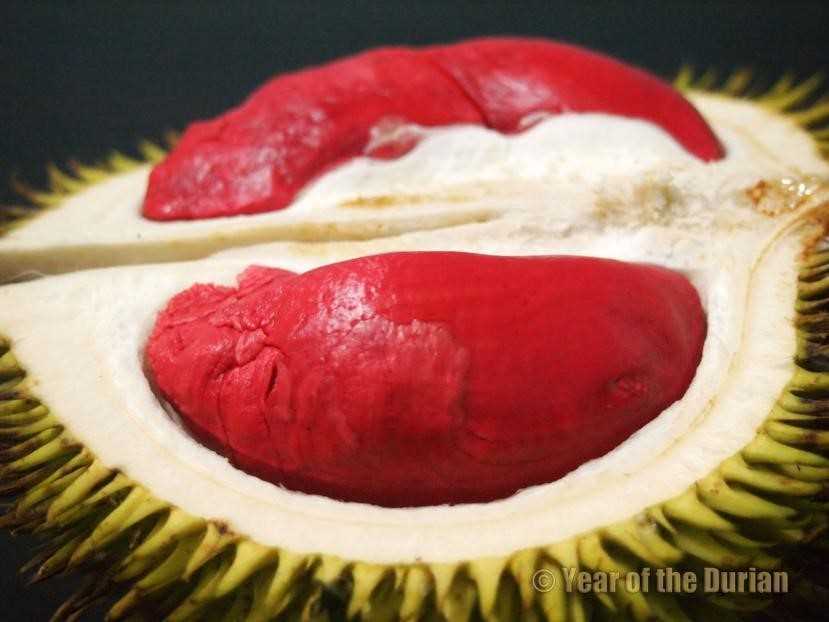 (Image via YearofTheDurian)
This type of durian has a reddish-colored flesh and that is why it is called little red. It is originated in Balik Pulau, Penang, which can also be found in the Bao Sheng Durian Farm in Penang. It has only one or two seeds per section and tastes bittersweet with a little after taste of sourness.

3. Coupling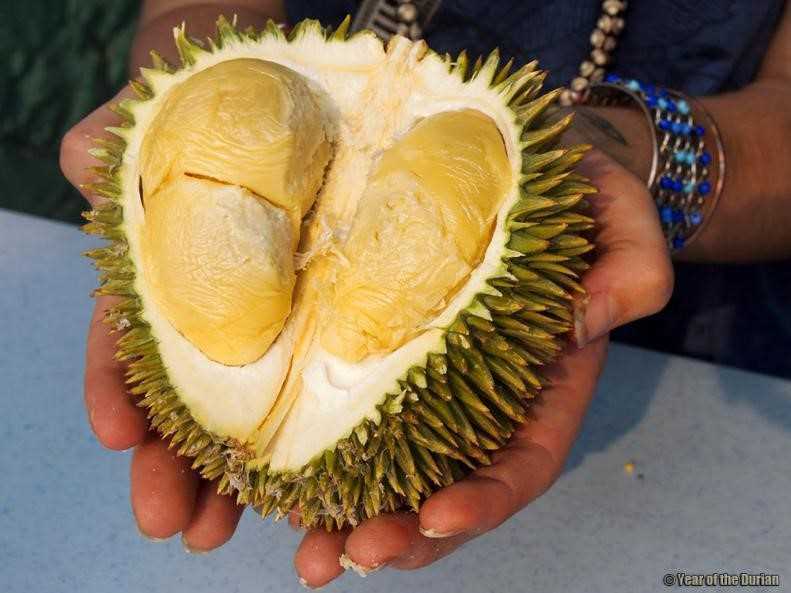 (Image via YearofTheDurian)
This type of durian is quite special as it looks as if two durians are joined together like a couple. The flesh is very thick and big in size. The colour of the flesh is more whitish. It tastes sweet but the texture is slightly dry.

4. Green Skin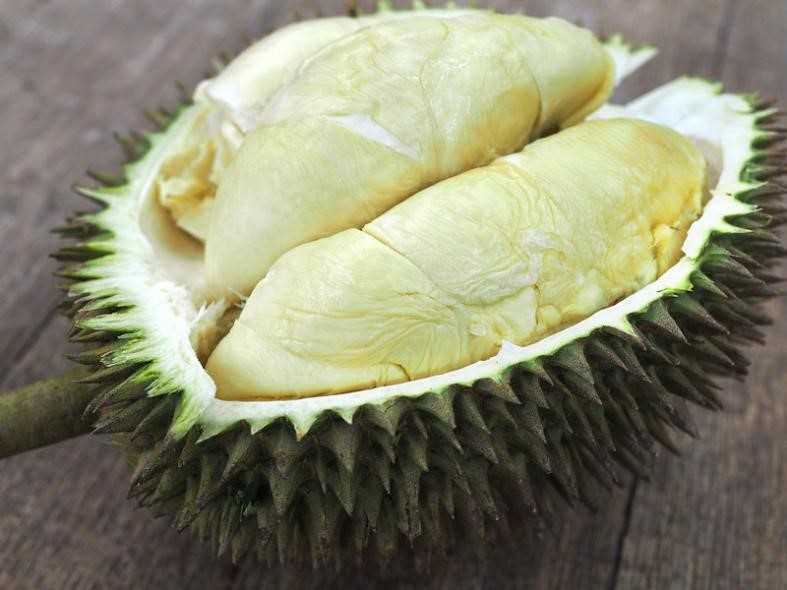 (Image via YearofTheDurian)
It has a bright green skin which is why it is given the name 'green skin', just as simple as how it sounds. The flesh is creamy white and a little dry. It does not taste as sweet as the others, but still delicious.

5. Khun Poh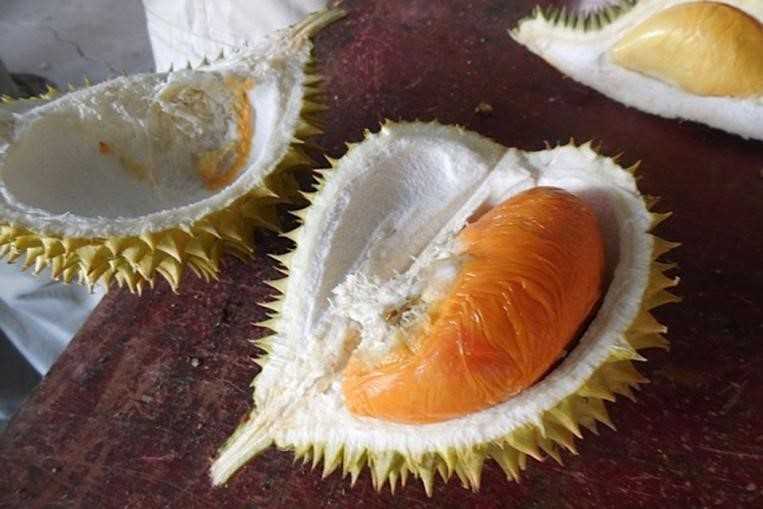 (Image via StraitsTimes)
This durian fruit is named after the late Mr. Lau Khun Poh, who first budded it. It can be recognized by the orange-colored flesh. It has a bitter-sweet taste with a strong aroma.

6. Durian Kampung or Durian Asli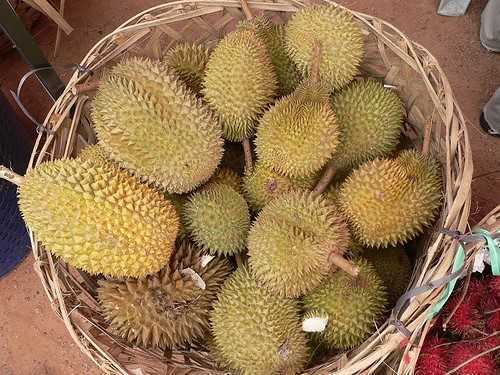 (Image via infokita)
As what its name sounds, this type of durian is commonly planted in the more rural area of Malaysia and the durian seller will collect it and piled up inside a basket to be sold. It is the cheapest among all because the taste is not guaranteed. If you are lucky enough, you will get a sweet and creamy one; otherwise, it can be just bitter or tasteless.
Here are only a few out of all the types that are available in Malaysia. Who would have known that durians have different types of names you never even heard of?
Knowing how to differentiate the types of durian is one thing, what more important is the durian season that you do not want to miss in Malaysia.
Bonus Read: Bao Sheng Durian Farm & Homestay Penang (Scroll Down for Info)

Durian Season In Malaysia
You have been waiting to eat your favourite durian fruit, but you can't seem to find any delicious one in your area. Too bad for you have missed the season. You may still be able to find a few but the taste definitely not as tasty as how it could be.
For Malaysia, we have East Malaysia which is the Sabah and Sarawak and West Malaysia which includes the whole Peninsular Malaysia.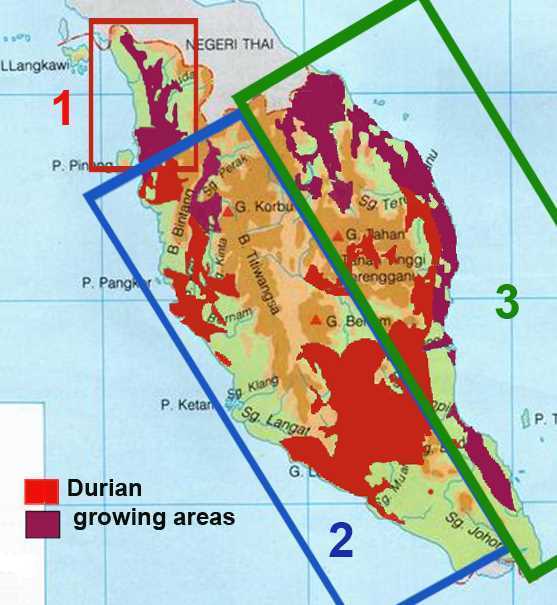 (Image via durianinfo)
For those who live in East Malaysia, the durian season normally takes place from June til August. Some of the Sabah areas may come in late around November to December. The crops here are usually consumed by locals and do not export it.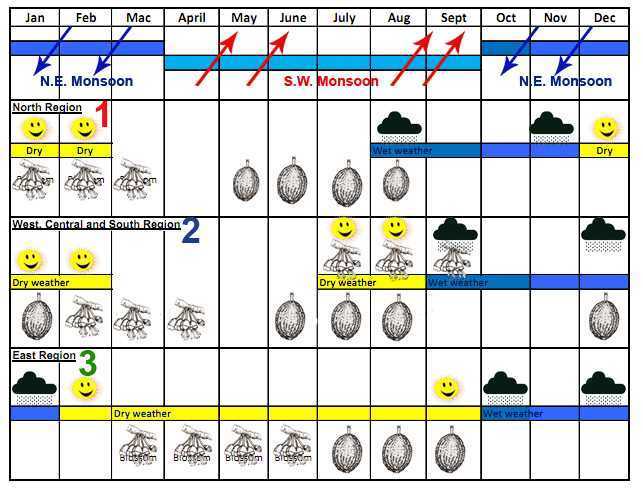 (image via durianinfo)
Durian season in West Malaysia is influenced by the annual monsoon wind and thus a shift in weather which will greatly affect the durian season.
For West Malaysia, it is divided into three regions.
First is the north region which covers states of Perlis, Kedah, Penang, Northern Perak. The main durian fruiting season is said to be centered around June or July.
The second region is central and southern region that include Southern Perak, Selangor, Negeri Sembilan, Melaka, Pahang and Johor. The main fruiting season is from June to August. There is also smaller off season when the durian trees will also bear fruits which is in December or January.
The last one is East coast region. This region stretches from north of Kelantan down through Terengganu to coastal region of Pahang. The durian season only happens from July to September.
Now that you are aware of the durian season that occurs in particular region, be sure to take note and hunt for it at the right time. Durian hunting is a special occasion which is enjoyed by some overseas tourist who came all the way to Malaysia to enjoy the heavenly-taste local delicacy and an opportunity to tour around this beautiful country.
Bao Sheng Durian Farm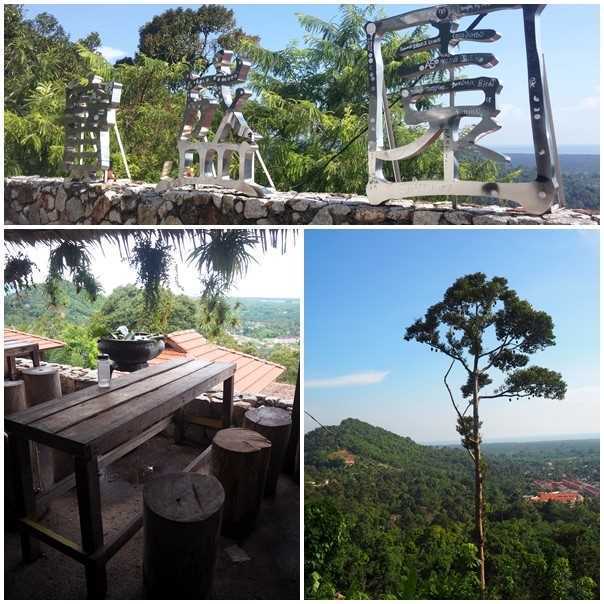 I believe most of you should have heard of bao sheng durian farm or perhaps visited it. If you have not, this place is a must visit when it comes to organic durian fruit. It is one of the most popular durian farms that situated in Balik Pulau, Penang.
It is so well-known that even people from China have been eagerly searching for this durian farm previously. So you can see how strong the existence of bao sheng durian farm outside of Malaysia.
The owner of the durian farm also known as Durian Seng has been practicing pesticide-free farming to produce healthy and high-quality durian trees. The workers take careful measures and make use of proper fertilizer on each of the durian trees planted. In this durian farm, the varieties of durian you can find are little red, lipan, kunpoh angbak and green skin angbak.
Bao Sheng durian farm is not only a place where you will have the chance of tasting authentic flavor-rich durians, they also provide homestay service for people who wants to immerse themselves in the world of durian. They offer different packages that come with different room types which is either villa or tatami room. Besides, there is an activity that gives you an opportunity to harvest ripened durians around the durian yard. You do not have to worry about some durian falling on your head as you would be walking under the nets that are tied from one tree trunk to another. It is definitely safe to explore.
P/S: So far nobody has ever been hit by a durian of course.
Address: Address: 150 Mk2 Sungai Pinang, Balik Pulau, 11000 Penang, Pulau Pinang, Malaysia (google map)
Contact info: +60 12-411 0600